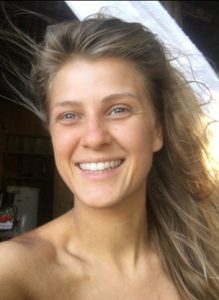 Yoga Teacher – Aoife Belle
T: 07624 324283
Bio
Aoife has been pursuing and practicing yoga since leaving University, deciding against her graduate job. Instead she followed her heart and travelled to Rishikesh, the birth place of yoga and a truly magical place, situated in the North Indian foothills of the Himalayas, where she began her inner journey and trained as a teacher of yoga. She has since practiced, experienced and explored many styles of yoga to include Hatha, Ashtanga, Kundilini, Vinyasa and Restorative Yoga.
Her classes are a creative fusion of slow flowing sequences and restorative postures whilst often weaving in a theme, based upon yogic philosophy that helps translate the practice of yoga into 'life of the mat'.
"Yoga is not about touching your toes it's about what you learn on the way down" – Tigar Gor
Aoife's approach is personable and nurturing. Her teaching is emphasised on exploring the energy of each posture whilst focusing on proper alignment, helping to guide each student to know his or her own boundaries and enabling the practice to work for them as an individual. Integrated into each class is clear instruction and an explanation on meditation and relaxation offering each student the opportunity to refresh and re-align mind, body and soul every-time you join Aoife on the mat.