Hi I'm Charlotte and I have been dancing since the age of 3. Opening a dance school has been a dream of mine since I stepped foot into my first dance class.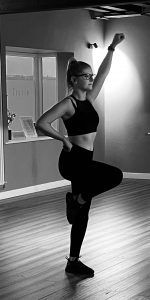 I trained originally in Ballroom, Latin and Sequence, I have experienced the many highs and many lows of the dancing world. Dancing in the infamous Blackpool Winter Gardens for many years, the highlights were being British under 10 Champion in the Lilac Waltz and Boston Two Step in 2012, then achieving a Junior All Girl sequence final in 2018, placing in the top 5 in the UK. I was successful at local competitions in the wonderful Villa Marina, winning trophies in all age groups.
In 2014 I was introduced to Cheerdance. My first competition was in the iconic Blackpool Tower where I won my class, I was the first person from the Isle of Man to gain this achievement.. My passion for Cheerdance has grown massively and I have competed in as many competitions as I can across in the UK, reaching finals in most competitions.
I have spent the last year studying and have now achieved my Associate qualification in Cheer Dance through UKA, and cannot wait to pass my knowledge on to my new students.
My studies will continue into other genres of dance and I cannot wait to be able to offer different dance styles within CNDC.