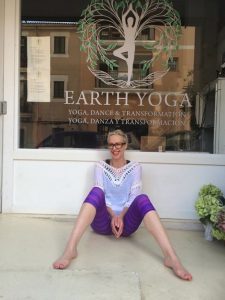 Yoga Teacher; Yoga Sports Coach; Yoga Therapist
Coordinator – The Studio
Esther Jones
T: 07624 416654
In my teaching, l place importance on learning the Principles of Alignment, which helps students to properly align their muscles and bones in the poses. Finding the correct physical alignment in each posture allows energy to flow more freely and ultimately promotes creativity and freedom both on and off the mat. – Namaste


Esther
Esther Jones specialises in discovering the needs of an individual and gently guiding each student to his or her own grace and balance. She creates a safe haven for students to dive deep, find their edge and transform.
Esther teachers weekly 'Open Classes' for all levels – see Timetable and runs a private practice offering one-to-one sessions for students seeking Yoga Therapy, helping support people with specific or persistent health challenges, she hosts a weekly Yoga Therapy class on behalf of the M.S Society.
Her private practice also welcomes students simply wishing to embrace yoga and learn more. Whether you are new to yoga or looking to develop, strengthen and explore your existing practice, Esther will work with you to determine your needs and goals creating a personalised yoga practice.
Esther was first introduced to yoga in India over 22 years ago, were she continued to develop and strengthen her practice whilst living in the country for over 3 years. Her knowledge, passion and love for all that is yoga, continues to strengthen, through her committed on going study and training with Jeanne Heileman, founder of Tantra Flow Yoga, and international Educator from Los Angeles, America. Esther completed her 300 hours Teacher Training with Jeanne in May 2017.
Esther is qualified to teach and has studied extensively, Tantra Flow Yoga, Yoga Sports Coaching – YSS, Yoga Therapy – YBT, Vinyasa and Yin Yoga; each adding a deeper element of meaning to her practice and teachings. She is a registered member of the Complementary and Natural Health Council, – CNHC.
Having worked and studied globally Esther has a wealth of experience, enabling all ages a means of maintaining health and wellbeing in an increasingly stressful society.